Member Discount Programs
As a CAMRT member, you have access to exclusive savings and value-added services from brand name companies.


All-Purpose Realty
Need help finding a realtor? All-Purpose Realty (APR) has helped thousands of families with their home selling and buying journey. APR is a licenced real estate brokerage operating as a real estate referral service utilizing agents from a national network of REALTORS® from well-known real estate firms. APR will be your first point of contact and will stay with you through your home buying and selling journey.
APR will match you with a real estate agent in the area you are buying and/or selling. Members will also receive cashback rewards when completing a transaction with the referred agent, at the rate of $25 per each $10,000 increment of transaction value. For example, sell a home for $800,000 and receive $2000. Rewards apply to both a sale and purchase. You can also view MLS listings directly from their site.
To register in the program or to obtain more information, visit https://all-purposerealty.com/camrt/ or call 1-800-203-9494.
Visit All-Purpose Realty
Avis
With more than 11,000 rental locations in 180 countries around the world, Avis is one of the largest car rental providers dedicated to expanding on-demand mobility solutions and personalizing the customer experience. For a unique and expedited experience, sign up for Avis Preferred and accelerate your rewards!
Avis is here for you, anytime and anywhere! Visit www.avis.ca/camrt and book your car rental with up to 30% off base rates for pay now or up to 25% off base rates for pay later, plus check for other deals that are often available!
Don't forget: at Avis we follow the precautions and guidelines set out by the World Health Organization (WHO) and the Center for Disease Control (CDC), in order to slow the spread of this virus. Safe travels with Avis!!!
Visit Avis
Bell Mobility
As a CAMRT member, switch to Canada's best national network1 and get preferred pricing for you and your family (on up to 5 lines) with the Bell Exclusive Partner Program.
Amazing network. Amazing offer.
Save up to 30% on phone plans and get big discounts on new phones.
See more exclusive offers by visiting bell.ca/EPP (click 'sign up' and enter CAMRT under 'company/association name') or call 1-833-237-0600 and reference CAMRT.
Sign In
Visit Bell.ca/network for terms and conditions. 1New Activations only.
Budget
CAMRT members save up to 35%* off base rates for pay now or up to 25%* off base rates for pay later when renting with Budget.
Make the smart move with Budget
Budget is a globally recognized car rental company with a reputation for excellence and value. Budget Truck Rental is a leading truck rental company serving both the value-conscious consumer and light commercial sectors.
Why should I choose Budget?
Budget has something for every need! With a huge network, and a wide selection of Cars and Trucks Budget will take you wherever you want. Internationally recognized for service and value, our prices are extremely competitive. Book your car in www.budget.ca/camrt or call our closest location to make the reservation for your Budget Truck and quote BCD #B193600.
*Terms Apply
Visit Budget
GoodLife Fitness
The CAMRT believes that your well-being is important, so we partnered with GoodLife Fitness to give you access to the benefits of exercise and healthy living. With over 250 GoodLife Fitness clubs across Canada and many gyms open 24 hours a day, you can workout wherever and whenever you want.
CAMRT members can save hundreds of dollars each year on GoodLife membership rates. Available to you and up to 4 family members.
CAMRT Member Rate
Option to pay in full or pay bi-weekly. Bi-weekly rate is $24.00 + taxes. Towel service included (where applicable). Annual rate with towel services is $599 + taxes.
Visit GoodLife Fitness for a complete list of club locations and amenities.
Browse the FAQs for additional information. For specific questions about this program, please contact corporateprograms@goodlifefitness.com or 1-800-287-4631.
Sign up Today
(Use your CAMRT member number as your unique identifier when registering online.)
Johnson Home and Auto Insurance
You need insurance, so why not take advantage of the exclusive rates that the CAMRT arranges for you? Our preferred insurance provider Johnson Inc., offers access to a range of insurance products, selected just for you.
Also, any time a member obtains a no obligation quote on home or auto insurance from Johnson, the CAMRT Foundation receives $20.
Mark's
Shop men's and women's scrubs, shoes, shirts, jeans, workwear. Formerly known as Mark's Work Wearhouse, Mark's is Canada's top apparel and workwear destination. CAMRT members receive 10% off regular priced items.
Print off a copy of the savings card below and present it in store for a 10% discount. Discount not available with online purchases.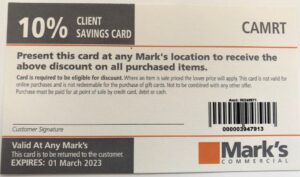 Click here for a printable version of the savings card.
Scrubs Canada
Receive a 10% discount on all online orders from Scrubs Canada. You can choose from a wide variety of stylish medical uniforms, lab coats and quality comfort footwear.
Visit Store
Enter discount code: CAMRT
Telus
As part of the Telus Exclusive Partner Program, CAMRT members receive discounts on voice and data along with a device subsidy on each new smartphone activated on your account.  Please note that this member savings is not available in-store.
See the latest deals
Local Hospitality Travel Discounts
Exclusive discounts that may exceed 50%, and average 10-20% savings below market on all hotels and car rentals around the world.
Planning a trip? Save time and money. Any hotel, any car, anywhere, anytime.
Book a hotel or car